Quick Foreclosure Clean Outs & Services in Boca Raton, FL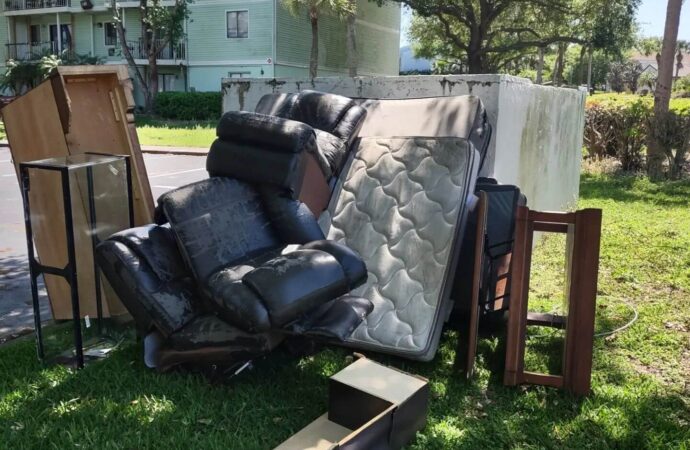 You may not have been told this, but you must make sure your property is ready for potential buyers and all cleaned if you want to be able to close a sale and get everything done during a foreclosure. You may lose the opportunity to sell your property if you don't take the time to invest in foreclosure clean outs. Then you'll have to worry about how all the items and old junk are disposed of properly while you don't forget about other important belongings that's in the home in the process. Our team at Boca Raton Junk Removal and Trash Haulers can handle everything.
We will inspect the property to determine the extent of junk and other items that have been left behind so we can help you with the full removal and disposal as needed or requested.

Find out how we will dispose of your junk and items: recycle them in the best facilities or dispose of them in transition centers.

Move the junk to the truck by lifting it and ensure you don't need to move a finger.

Make sure everything is clean so that the space looks brand new and you have an entire cleaned area for sale.
No matter if you're a homeowner selling your house, junk can be hard to get rid of. It's not enough to just haul heavy objects out of your home. It is also important to ensure that the items are not damaged and that you take them to all the right places and facilities.
Here's an easy explanation of what the clean out looks like and how we can help you:
It is essential to prepare before a foreclosed house can be sold. We can help you sort and organize everything, as well as regular junk removal, and make sure everything is disposed of only on what you want us to take with us and what you want to remove.

You are responsible for cleaning up after the property is foreclosed, even if you're a real estate agent. Even if the owner isn't there, we can assist you in this as well, so rest assured we can be the support you need for the entire removal.
We are a trusted foreclosure cleaning company and can remove any item. We can pick up, haul, and dispose of nearly any item, so you can worry less about how the junk is moved and dealt with.
We will complete the job quickly and efficiently without causing any inconvenience or damage to your property.
Recycling Is Part of What Our Team Does
Junk disposal does not always mean going into landfills and relying on these non-environmentally friendly methods. We focus on recycling facilities and transition centers for maximum disposal to make sure everything is kept clean and all-green.
It may not be obvious, but almost all junk and garbage items can be recycled or repurposed. We want to make sure that furniture and other items we take out of properties are not considered trash and that you can rest assured we take care of everything properly.
It is possible to make a big difference by paying attention to the materials and being careful when removing junk. Large amounts of junk can be generated by foreclosure clean outs. This is the most recyclable material considering the items and waste in the space.
Our greatest strength is not the cleaning itself but the way we manage it to make it faster. We will make the planet beautiful, clean, green, and beautiful for future generations. Our team will ensure that your property is ready for sale.
Here is a list of our services you can get at Boca Raton Junk Removal and Trash Haulers:
---
Boca Raton Junk Removal and Trash Haulers is the top company in Palm Beach that offers the best residential and commercial junk removal services. Here's our additional services:
---