Welcome to Boca Raton Junk Removal and Trash Haulers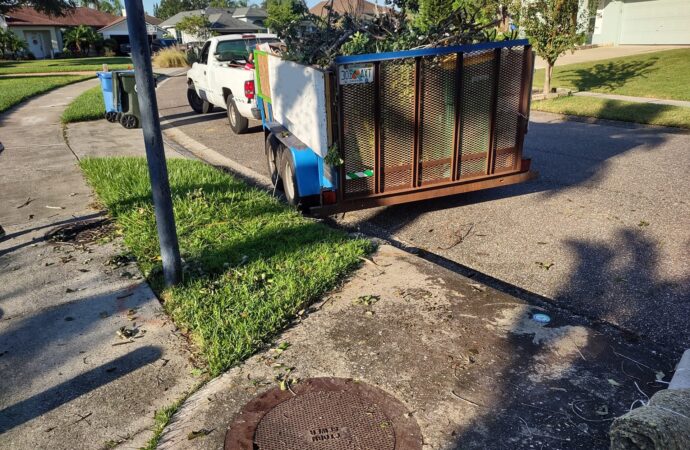 You need to be careful when looking for junk removal companies in your area if you don't want to end up with "professionals" that are far from actually providing you with the services and support you need. Make sure you are aware of how they handle trash and how reliable they are so you can just leave everything to them throughout the process. Boca Raton Junk Removal and Trash Haulers can assist you with all your junk removal needs.
Besides your regular disposal, we also offer space cleanouts, including apartments, businesses, and storage units. We will provide all the help you need and ensure that you are covered so you don't have to move a muscle and can focus on your other tasks and business activities.
We will answer all your questions and help you choose the best solution for you if you aren't sure about which service you need.
We care about your satisfaction and will always focus on what you need and require for all your junk removal. We will provide you with a quote based on your junk removal requirements and budget. Also, we will ensure that everything is included in the estimate and that you are free to hire us right away or later without any extra fees for it.
Our experts are available to help you get rid of junk from your house or any other property you own since we can also help you with commercial junk removal.
For over 30 years, our support has been a blessing to the entire area and residents. Since our clients have been able to handle their regular junk removal needs and have had additional assistance from us, we are proud to be a part of the support team and everything in the junk removal field.
We are here to help you. We will ensure that the final price is fair and that you have all of your needs met regardless of the magnitude or size of the project and the removal or cleanout you need.
How do you know if you are eligible for our services or if they cover your needs? There are 27 services that we offer, and we want you to be covered with all of them or by you requesting a custom option when contacting us.
For more information, please contact our team. Here are some things we'd like to share with you, so you know how far we're willing to go if you need our help in Boca Raton and all nearby areas and cities in the state:
You should consider the type of junk you have as well as the project you are working on to help you choose the right service in case you don't know with certainty which one of the lists will cover your needs. This will allow you to identify the kind of junk we need to remove and how you can let our staff know as well. 

Usually, you have two choices: either remove specific junk or go for general service. Many services can assist you with junk removal and cleaning out, depending on what property or space you have.

We can help you clean up, as we have already mentioned. What does this all mean? Our team will visit your property to remove all junk. You can have everything organized and disposed of in transition centers or recycling centers. This will make your property ready for a sale or a new tenant, and this service applies to more than just houses or apartments. Businesses and storage units are just part of the spaces we can clean out for you.

We offer both recurring and one-time pickups. We will only ask you for what you require and focus on delivering any of our services in both options.

We don't want you to have to lift one finger. We will offer our full support when you need it, including heavy lifting, loading trucks, moving things to the best facilities, and working with multiple properties.
If you're unsure which service is best for you and don't feel confident selecting from our list, you can call, email, or use our contact page. We are happy to assist you again and will provide an estimate based on your request and help you get started from this part and go from there.
Although we can provide an estimate, we won't know all details. However, it will give you an idea of the cost of the service and a rough price, and we will work from there based on what you determine with our support and assistance.
We Are Here to Help You with All Junk Removal & Cleanouts Needs
You can reach us by phone or email to have the task completed. We will remove all junk and other waste from your home or commercial property and make sure you can just relax and lie down for a bit.
Use our contact form to tell us about your service or request support from our team. We will be there for everything and make sure you can just worry less about the disposal and even where the junk is going.
We will meet with you to discuss your concerns, provide an estimate and give you the best advice. We will visit the property or space where the junk is located to assess it properly and give you our best advice.
Our team will be available to assist throughout the project. We can help with junk removal or cleanout simultaneously if necessary.
If you have any questions or would like to discuss your options, we offer many services. A complete list of all our services is available below. This will allow you to see what we have to offer and how our team can help you with many cleanings and removals:
We Guarantee Fair Prices
The junk removal team will give you an estimate based on your request and the service you need, the amount of work and junk, and how the cleanout needs to be performed. This will allow you to relax and get an estimate that's based on what we can do.
We will take into consideration all factors and budgets to ensure that you feel comfortable with the service. These steps will enable you to receive a quote and get a price that suits your needs:
You can reach us via email or telephone. To let us know what junk removal or cleaning service you require, you can use our contact form.

We will be happy to provide an estimate and visit you. We are happy to schedule a visit and provide an estimate.

After you accept the estimate and book the appointment, the team will begin work to make sure everything goes according to plan.
Prices can vary depending on the service requested and the amount of junk being removed.
We don't believe that a single request can provide an average or estimate. We will try our best to accommodate your requests and provide an estimate of the cost. However, we won't always be able to give you an exact average.
All aspects of the quotation process are available free of charge. If you have any questions about whether you wish to hire us, you can always reach us later.
This is why we are here to help you at all times. We will be there to meet your every need.
Here is a list of our services you can get at Boca Raton Junk Removal and Trash Haulers:
---
Boca Raton Junk Removal and Trash Haulers is the top company in Palm Beach that offers the best residential and commercial junk removal services. Here's our additional services:
---